The Shreveport – Bossier Area Year End Real Estate Market Report highlights the 2018 real estate market conditions in Northwest Louisiana including the Parishes of Caddo, Bossier, Desoto, Bienville, and Webster and the cities of Shreveport, Bossier, Haughton, Benton, Stonewall and surrounding areas. All data is from the NWLAR MLX (Multiple Listings Exchange) and is believed to be accurate but not guaranteed. For a detailed market report for your home and neighborhood, contact me directly.

What's Happening in the Northwest LA Real Estate Market?
The residential real estate market in Shreveport – Bossier and surrounding areas continues along at a steady pace and we aren't seeing significant changes in any of the metrics over the past few years. We have seen a modest increase in total sales year over year since 2013 with a
5% increase in the total number of sales from 2018 to 2019
. The average sale price peaked in 2016 at $180,837 and dipped slightly in 2017 to $175,996. In
2018 the average sale price increased by less than 1% to $177,286
…a small yet positive gain. The
average days on market (DOM) remained at 73
with no change from 2017. The
average list price to sale price ratio
has also remained steady with just a nominal decrease from 96.5% in 2017 to
96.2% in 2018
. This means that for every $100,000 the seller is asking he actually receives approximately $96,000. This percentage doesn't include seller contributions to buyers closing costs (a common practice in our area) or other costs to the seller.
Check out our charts and graphs: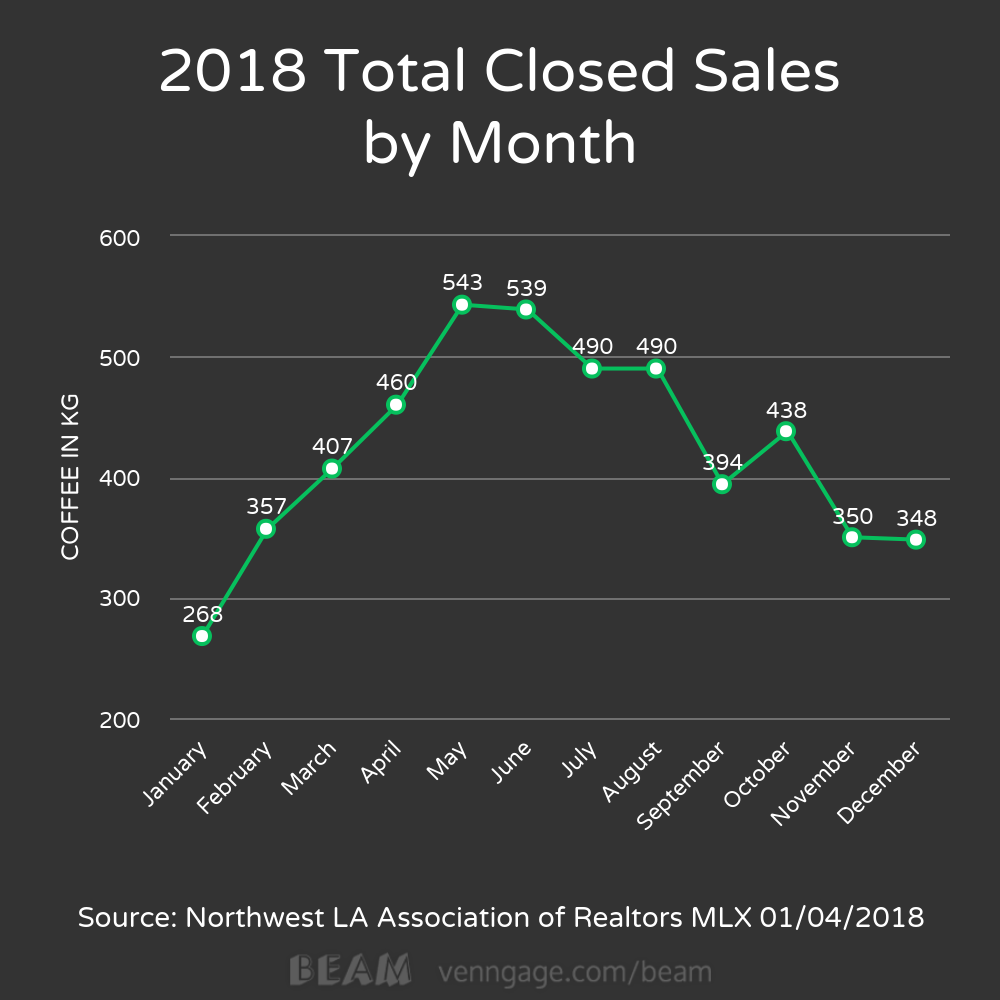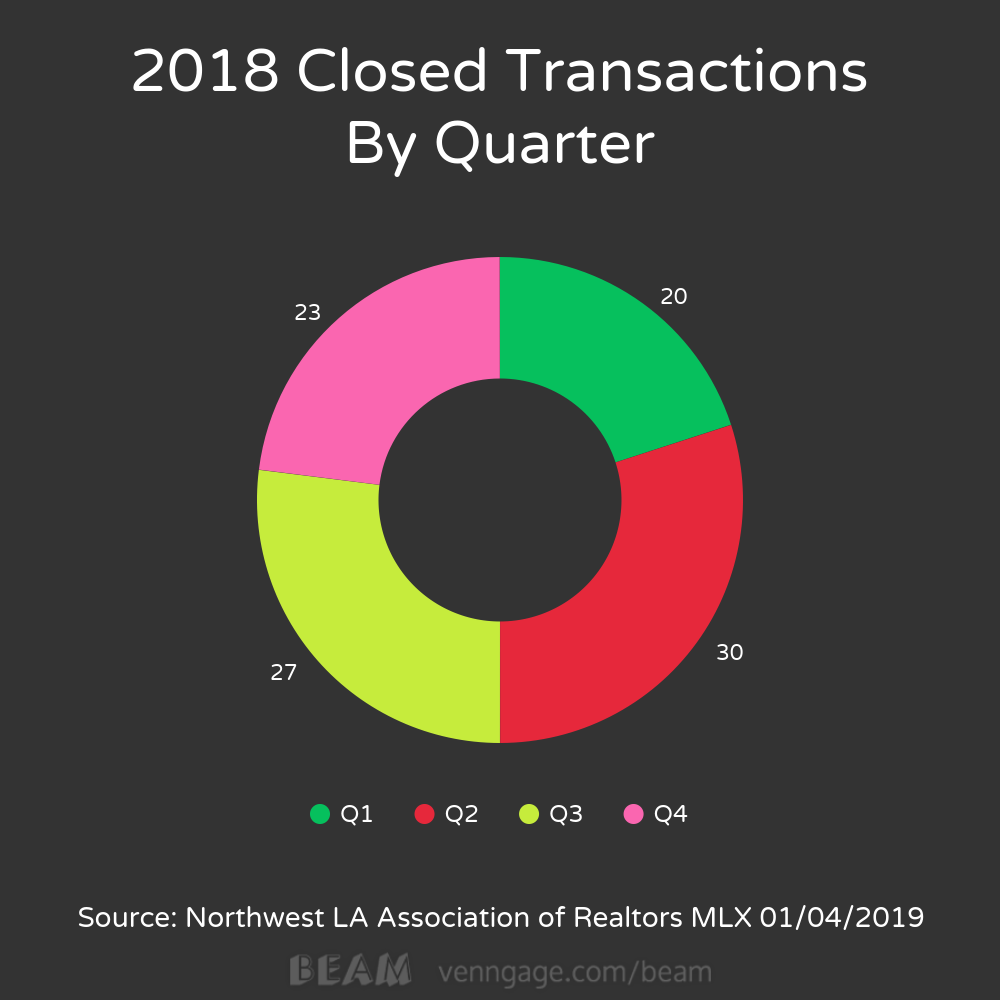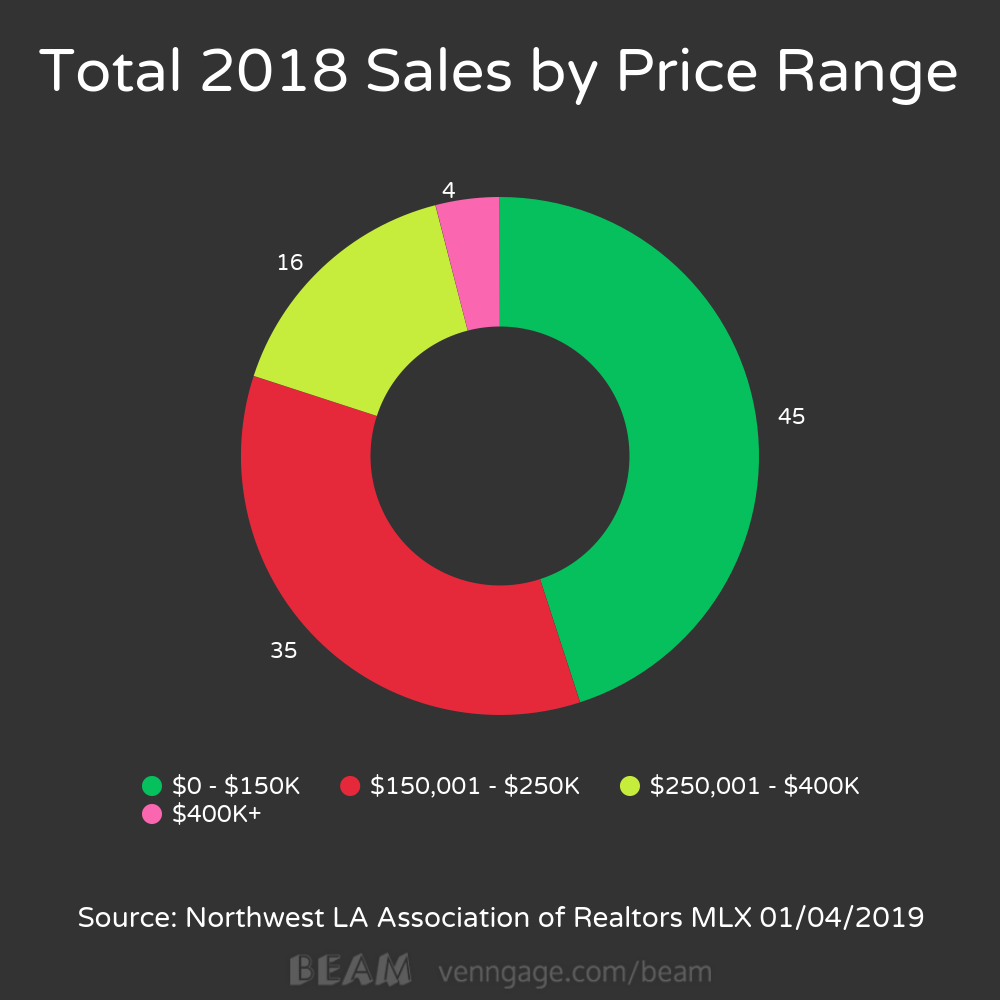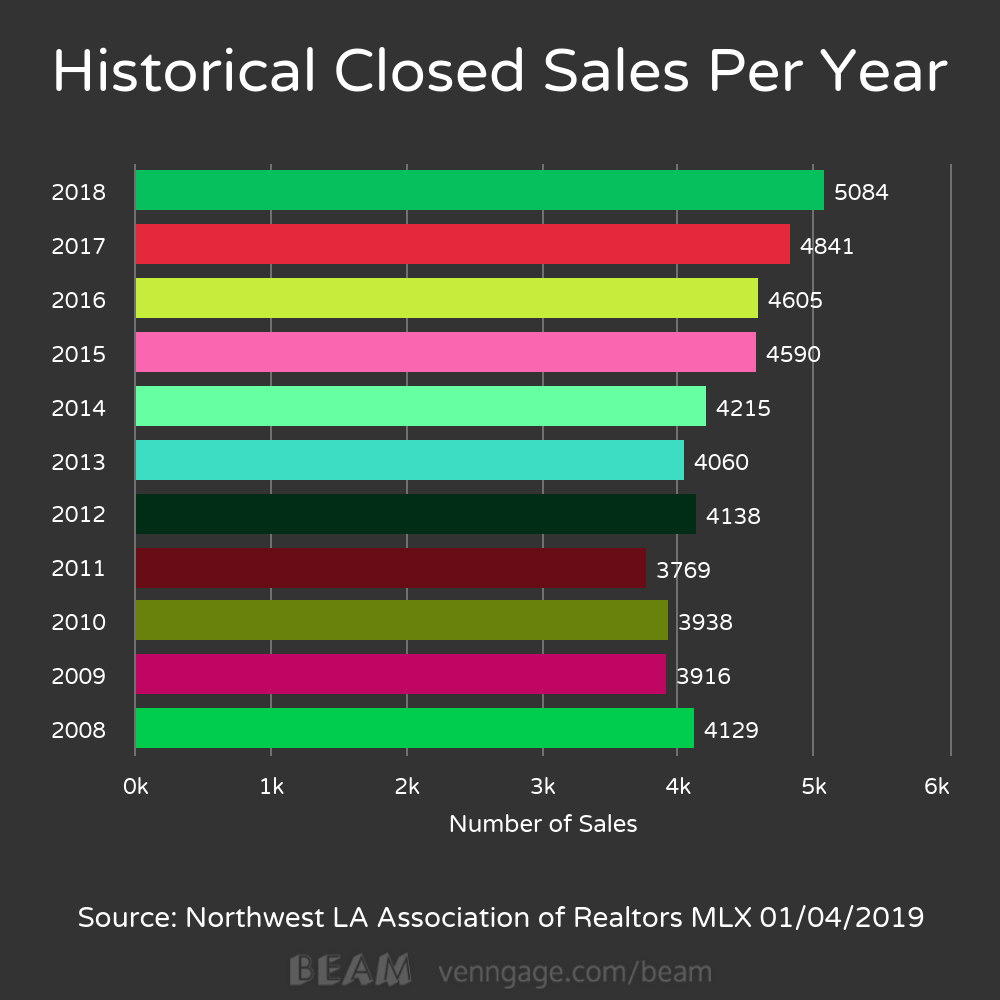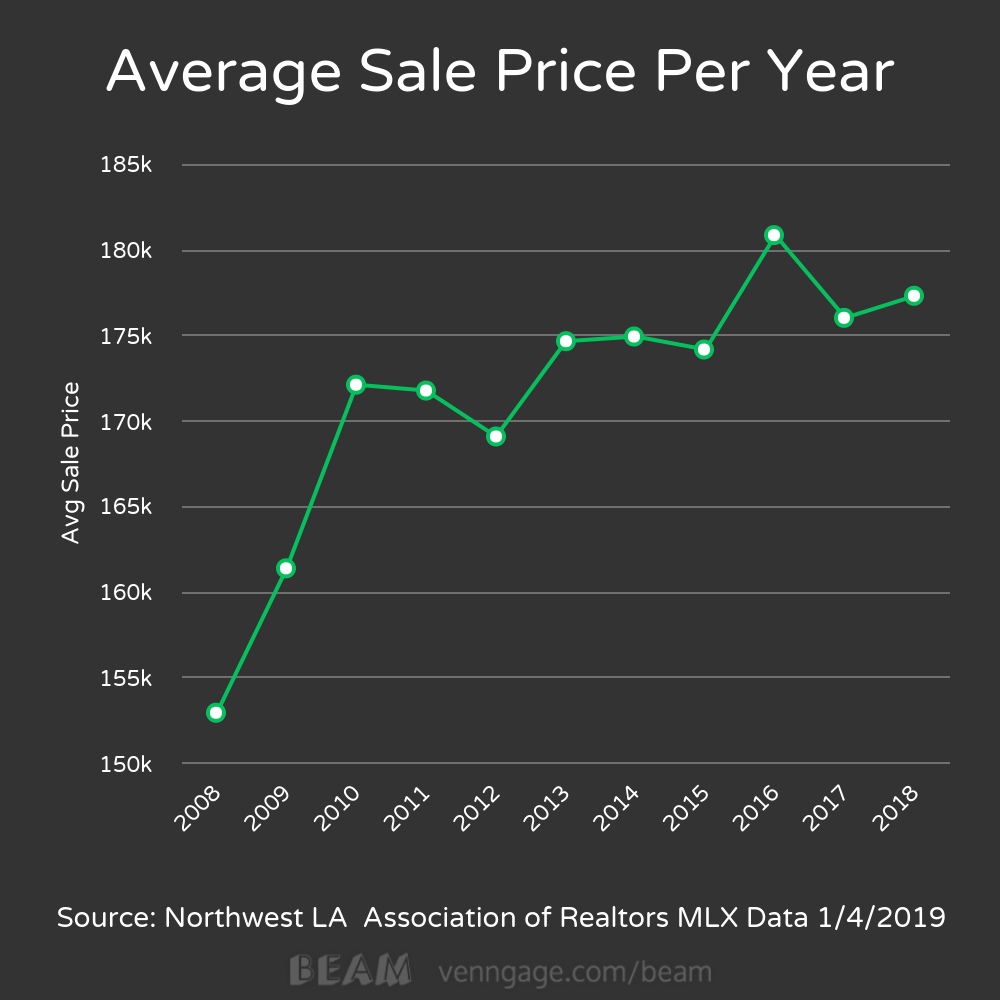 Here are a few more interesting Shreveport – Bossier area market stats:
Total number of homes listed for sale in 2018:
8,320
Total volume of residential sales in 2018:
$906,728,045
Highest priced home sale in 2018:
$1,400,000
Lowest priced home sale in 2018:
$1000.00
Total number of homes that expired from the market in 2018:
596
Number of homes sold where seller paid a portion of the buyers closing costs:
3,274 (64%)
Number of homes sold for cash (no mortgage financing):
1107 (21.7%)
The Highest Priced Home Sold in the Shreveport – Bossier Area: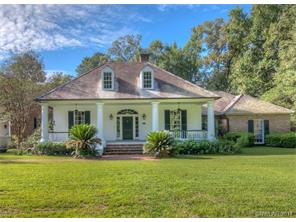 The distinguished honor of highest priced sale in 2018 goes to a 1985 built 4 bedroom, 4.5 bath home with over 5,100sf located on nearly 5 acres in the southeast community of Railsback Ridge (71106). In addition to the beautiful acreage with a private pond, this home features a grand foyer with a spiral staircase, 3 fireplaces, hearth room, library, game room, screened porch, inground pool, and gorgeous high-end finishes throughout. The final sales price was $1,400,000. The original list price was $1,700,000 and it took 133 days to find a buyer. The most expensive home that came on the market in 2018 is still for sale and currently priced at $2,650,000 in the southeast community of Lake Forbing in Shreveport. Check it out here.
Selling Your Home
Are you curious about how much your home is worth in today's market? This Real Estate Market Report is a good start, but if you're interested in the market values in your particular area, contact me for a market analysis specific to your home and neighborhood. In addition to your detailed report, I can also provide information about seller closing costs and contributions to buyer's closing costs (a common practice in our area) to give you the true cost of selling your home. I will also prepare a
net proceeds worksheet
so that you'll have an estimate of your bottom line.
Preparing to Sell
is critical if you want to get top dollar for your home. I believe it is vitally important to advise sellers on which improvements will help to deliver the highest price in the shortest amount of time.
"Holly is amazing! I've seen first-hand how hard she works to help her clients present the most fabulous version of their home to the world. She gives it everything she's got and then some. She's the best!"
Shannon Palmer
Buying a Home
Experts agree that Interest rates are likely to increase in 2019 so if you are planning on purchasing a new home (or your next home) this year NOW is the time to start preparing. A 1% increase in interest rates could mean a 10% increase in your monthly payment and may even keep you from being able to qualify for your dream home.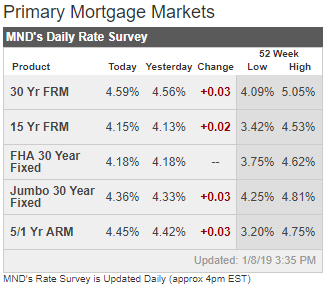 Get updated mortgage interest information at http://www.mortgagenewsdaily.com/mortgage_rates/
If you're ready to purchase a home but aren't sure where to start, contact me for a needs analysis so that we can determine what type of home and area is the best fit for your situation. I can also help you find a reputable local lender that will determine which loan programs are best for your particular financial situation. If you're not sure if you qualify a quality lender will work with you to remedy any issues with your credit and get you on the path to home ownership. Check out 5 Tips for Buying a Home and Dealing with Financing for more insight into the home buying process.
Low Down Payment Loan Programs
You DON'T have to have 20% down to purchase a home. FHA Loan Programs offer mortgages with only 3.5% down payment and conventional loans are available starting at only 3% down payment with some of these available with no monthly mortgage insurance
.
VA Loan Programs – a popular option for our area considering we're the home of Barksdale Air Force Base – offer $0 down payment mortgages with no monthly mortgage insurance to eligible military active duty and veterans and $0 down payment rural development loans are available for eligible homes outside the city limits. Low- to median-income and first-time borrowers may qualify for down payment assistance through special loan programs.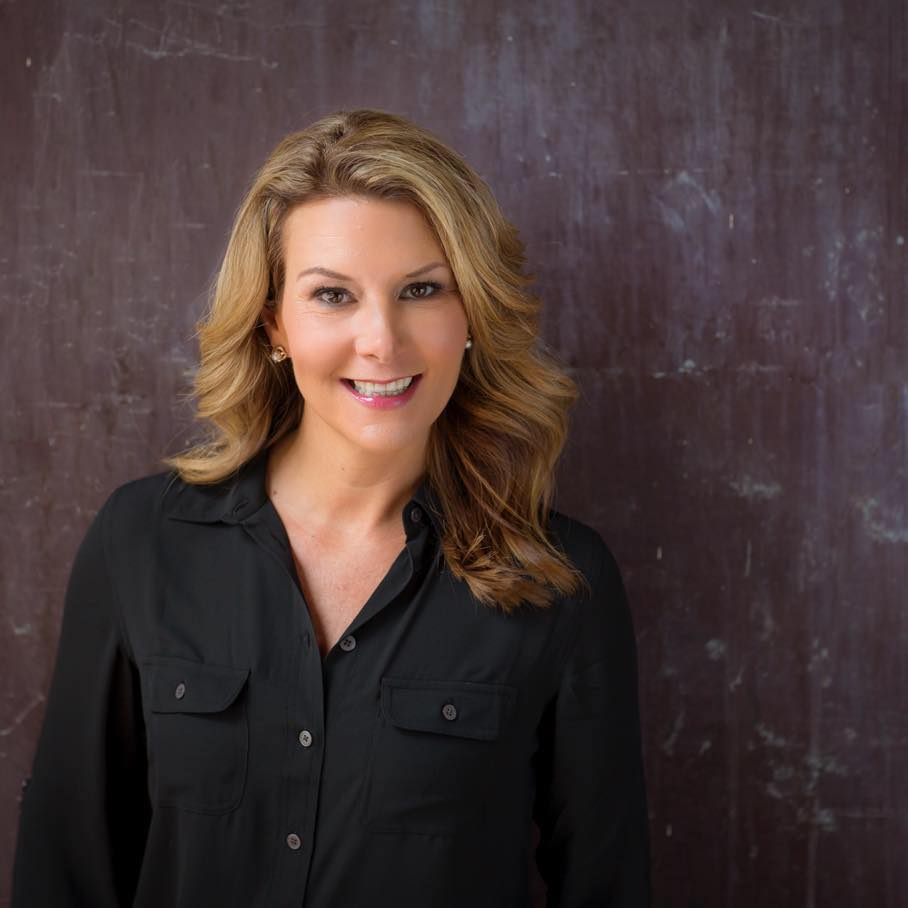 Holly Roca is a licensed REALTOR with Keller Williams Realty NWLA in Shreveport, Louisiana. As a Shreveport – Bossier Real Estate Agent specializing in residential Northwest LA real estate. If you have any questions about real estate in Shreveport, Bossier City, Haughton, Benton, Stonewall, Keithville, Greenwood, Bethany, Blanchard, or surrounding areas call or text Holly directly at 318-754-7039 or send an email to hollyroca@kw.com.